What if you woke up one day to find that you lost precious photos of dear ones? How about losing your business documents, research and other important data?
Shivering thoughts, with a simple solution: BACKUPS!
Choose FBackup if you're looking for a free backup software with simple features, or the commercial
Backup4all
for more advanced backup options.
Premium Backup Software
Backup4all Professional
FBackup
FBackup maakt file backups. EN GRATIS
About FBackup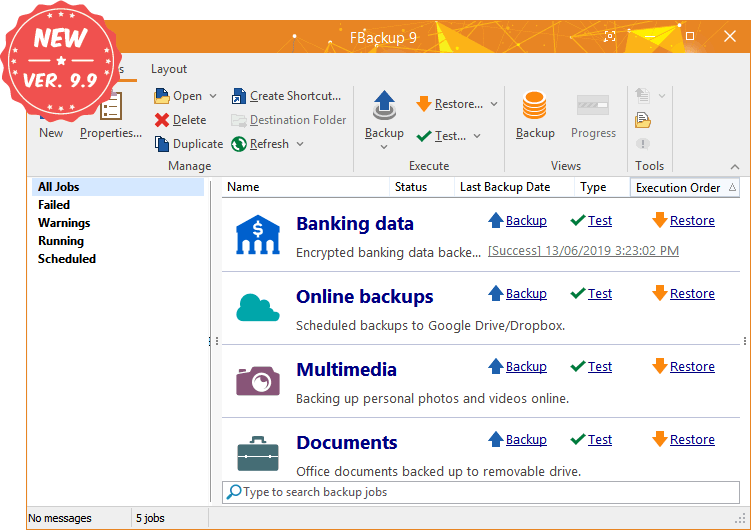 FBackup heeft een eenvoudige interface en gidst u door het proces van het definiëren van een back-up met behulp van een vriendelijke wizard die u vraagt:
Waar wilt u de back-up opslaan (de bestemming).
Waarvan wil je een backup maken (de bronbestanden).
Hoe wil je de backup maken (met behulp van de volledige back-up die de bestanden zipt, of exacte kopie van het origineel zonder zip).
Wanneer wil je de back-up starten (u kunt het schema automatisch of handmatig laten uitvoeren).
Zodra een back-up taak is gedefinieerd kunt u deze handmatig starten met de Backup-knop (of F6), of als u een tijdsplanning instelde start deze automatisch. FBackup kan gemakkelijk een back-up van bronnen op lokale stations (inclusief USB aangesloten stations) naar bestemmingen zoals USB / Firewire aangesloten apparaten of netwerkstation plaatsen. Het creëert standaard zip-bestanden (bij gebruik van de volledige back-up), of exacte kopieën van de originele bronnen zonder compressie (met behulp van de back-up Spiegel).
Read more
Screenshots
Belangrijkste functies
Het is gratis voor persoonlijke en commerciële doeleinden.
FBackup is een GRATIS back-up software voor zowel commercieel als persoonlijk gebruik. Dit betekent dat u kunt besparen doordat u geen ander back-up programma hoeft aan te schaffen.
door automatische backups.
U definieert een back-up functie, stelt die in op automatisch, en u hoeft er niet meer aan te denken. FBackup zal dit automatisch uitvoeren op het geplande tijdstip, zo profiteer je 2x, u heeft automatisch uw bestanden beveiligd en er geen tijd voor moeten uittrekken.
Backup met standaard zip compressie.
Bij gebruik van het volledige back-up type, zullen de bronbestanden worden gearchiveerd met behulp van standaard zip compressie. FBackup gebruikt ZIP64 compressie, wat betekent dat het zip bestanden kan maken van meer dan 2GB groot. Bovendien kunt u het zip-bestand beschermen door middel van een wachtwoord welke achteraf nodig is voor de extractie van gegevens uit het zip bestand.
Testimonials
What our users say about FBackup
I've tried many backup applications over the years. Cobian, Comodo to name a couple. Though those are very good, freeware solutions. I must admit that after trying FBackup, this one is the best I've ever used. It is also very powerful and unique as far as backup software is concerned.
DarrenWalker (Fileforum)
Very useful piece of software for any user. Simple to use and easily backups your files and protects from corruption. I recommend this to anybody looking for a simple and easy to use software for backing up their important files. It's free so it means you don't pay for anything.
Raidenzxz (Download.com)
Have used this software both for back up and more importantly for restore. It worked as advertised. It was simple and worked well. It has saved me now twice when a bad motherboard took out the hard drives in raid mirror setup. I like the better package now due to the greater range of ability.
Breebree (Fileforum)
Easy to use and able to specify just what is to be backed up. I have it set up to do 7 different jobs, Videos, Documents, Music, Desktop, Outlook and Photos. Options of "zip, mirror and full" backup formats provide flexibility when capacity constraints are a factor.
HjHarris (Download.com)
A complete, easy to use, reliable and versatile backup application at last. I was impressed by FBackup after trying (and uninstalling) so many others. FBackup does all the things I want to be done, so it's here to stay. Recommended!
Nicholas (Fileforum)
Amazingly full-featured for a free program. Broad capabilities, including all the 'standard' backup options, but with many more features that the competition holds out for paid upgrades only. It took awhile to find FBackup among all the tools out there, but it was worth the extra searching.
Kfitzharr (Download.com)
Tutorials
Watch videos that show FBackup in action
We're Softland
Learn more about the company that makes FBackup
About us
Softland is a company founded in 1999, committed to providing quality software by using innovative development solutions. We always put the needs of our customers first and that's why we value our users' feedback.
About Us
Contact us
Contact us with any questions/suggestions you might have regarding FBackup. If you are experiencing errors with FBackup, we recommend checking first if there isn't already an answer here:
FAQ
/
User Forum
Get in touch
Our Products
The products we develop and maintain target two different fields: file backup (Backup4all and FBackup) and PDF creation (novaPDF and doPDF). Since 2011 we also run Soft112, a software download library.
Products
FBackup in numbers
FBackup is continuously developed since 2006
FBackup
Download & Rate FBackup